ZimmerClayWorks pottery and sculpture is made with 100% porcelain clay and is fired to a very high temperature, which helps make it particularly durable. All utilitarian pieces (cups, bowls, platters, etc.) are microwave and dishwasher safe.
Glazes are certified as food-safe.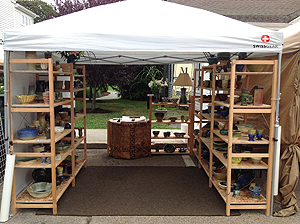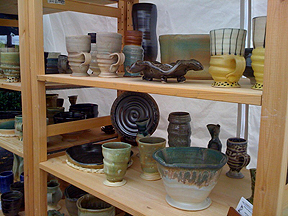 Background information about the artist: Austin Zimmer was raised in Fiji and the Kingdom of Tonga (located in the South Pacific) and has traveled, studied or lived in: Australia, England, France, Holland and much of the United States.

All artwork is sold as one-of-a-kind. Similar pieces can be combined to form sets, but each piece possesses unique qualities that naturally vary. All pieces are signed. No mass production and no special-orders accepted.

ZimmerClayWorks offers a complete money-back guarantee (less shipping) for 30 days.


Click here for kiln construction details. The completed kiln (shown above) is a
30 cubic foot down-draft (propane powered) salt kiln. Austin's studio is also equipped with a large
electric kiln (a new Skutt KM1227).
ZimmerClayWorks welcomes MasterCard, Visa, American Express, Discover and PayPal payments
via secure server (online), or directly at shows. We also accept personal checks and money-orders.
Welcome: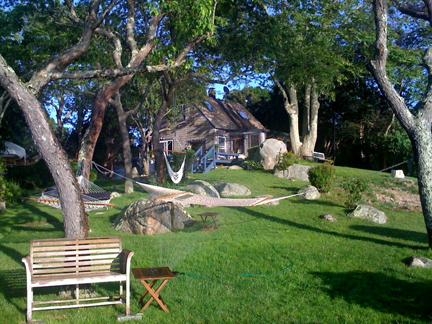 Austin's paradise (home and summer studio) located in Mystic, CT.
FYI -- The water-front property (pictured above) was originally purchased by Austin's grandmother (Mrs. Nell Smith) for $50, in 1938. The sale occurred one week AFTER the devastating hurricane of 1938, which caused wide-spread damage and 800+ fatalities. The seller was understandably eager to 'unload' a waterfront property and Mrs. Smith stepped up and seized the opportunity! The Smith, Goodrich, Knight and Zimmer families will forever be in her debt.
Here are a few pictures of Austin's new work, all of which sold (quickly!) at the Mystic Arts Festival.
FYI -- Austin received the 'Best of Show' award, for ceramics, from the Mystic Chamber of Commerce.




Sabbatical Itinerary

The emphasis of Austin Zimmer's sabbatical was
on reconnecting with his artwork.

(pictures and a complete itinerary listed below)

December

The sabbatical started by visiting New York and Boston galleries. Austin then began drawing, packing and getting ready for a move to North Carolina (Penland School of Craft) for an artist-in-residence program.


January

Austin spent a wonderful week at the Grove Park Inn and Spa, located in Asheville, NC. The Grove Part Inn is a classic GRAND resort, built in 1913. Austin highly recommends The Grove Park Inn to anyone
that REALLY needs to get away!

Austin's pictures (series #1)

January and February

Artist-in-residence program at the Penland School of Crafts,
located 30 minutes outside Asheville, NC.

Austin's pictures (series #2)

A quote from Austin upon arriving at Penland School of Crafts: "I am thrilled with my initial results and am looking forward to getting everything out of the kiln (reduction, soda and salt), stay tuned for pictures! I plan to fire work in soda, salt, wood and high-fire reduction kilns at Penland. The facilities at the school are fantastic, everything is at my finger-tips! I typically arrive in the studio around 10:00 a.m. and work until 2 or 3 a.m.; studios at Penland are open 24/7. Everyone is incredibly friendly and generous with recommendations and helpful suggestions; this is what heaven must be like (well, at least for a potter)!"


March, April and May

Austin spent the remaining three months of his sabbatical renovating his future home and studio in Mystic, CT. He also began construction of a 30 cubic feet downdraft salt-kiln, which is now operational.

[top]