Home | Online store | Show schedule

| | |
| --- | --- |
| | Electric kiln (Skutt KM-1227) |

Austin recently finished building a salt/soda kiln (28 cubic feet) in Mystic, CT; the kiln is now fully operational.
There is also a new electric kiln (Skutt KM-1227) up and running.
Kiln construction plan details: The kiln was built on a 70" x 70" cement slab. One row of cement block was then created(layer #1). A double row of Super Duty hard-brick was then layed down. The interior of the kiln is 44" (wide), 36" (deep) and 40" high. The stack is 12' tall, with a 10" by 8" interior chimney dimension. Two primary (B3) Venturi burners, supplied by Ward Burner Systems, power the kiln from the rear (floor) of the kiln. There are five 100lb propane tanks (roughly 115 gallons of fuel) on site. The kiln is a down-draft style, with 5 peep-holes. The damper, which is built into the chimney stack, is 16" x 14" (Austin used a high alumni shelf and cut it to size).

FYI -- Austin used a dry cutting saw (see picture below) to cut bricks and shelves (Rigid brand).


Kiln shelves were purchased from Bailey Pottery Supply (Advancer Shelves / pricey but excellent). All the bricks, roughly 1500 Super-Duty straights and 300 #1 arch bricks, were purchased from Sheffield Pottery Supply.
Austin's completed works are available in local shops and galleries in the Mystic, CT and Stonington. CT area. Austin also plans to do eight to twelve high-end craft shows per year; stay tuned to the show schedule page for details.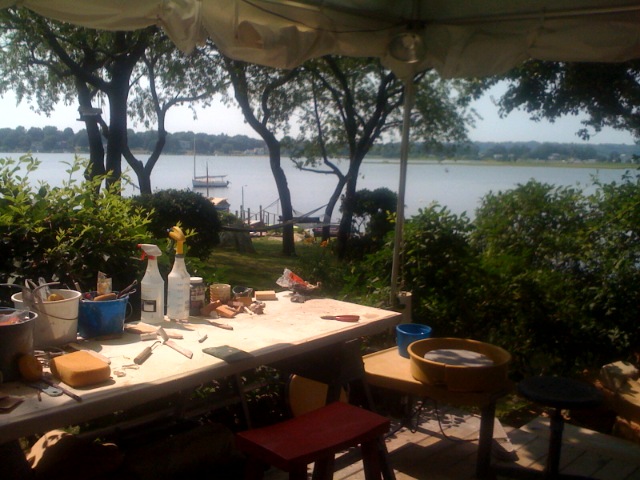 Here's the view from the Austin (outdoor) studio; it's a rough life, but someone has to do it!
The studio moves indoors during the winter months.
Yes, that's Austin's new boat in the background.